Carrier must pay $1.25 million to settle employment discrimination case
Posted April 28, 2023
Eight years of alleged discriminatory misconduct ended in a $1.25 million payout from a nationwide trucking company headquartered in Wilmington, Ohio this week.
The federal lawsuit filed by the U.S. Equal Employment Opportunity Commission (EEOC) represented a class of female applicants who were declined loader positions at an Ohio-based national carrier. The EEOC filed the lawsuit (Case No. 1:17-cv-00515-DRC) in the U.S. District Court of Southern District Ohio after the carrier declined to reach a voluntary pre-litigation settlement.
Employment discrimination based on sex
Witnesses and women who applied for the loader positions between January 1, 2010, and December 31, 2017, were told that the Ohio-based carrier did not hire women for loader positions. This was a violation of Title VII of Civil Rights Act of 1964, which prohibits employment discrimination based on sex. This alleged action led to a much lower percentage of women hired for the loader role compared to male applicants.
Although the company did hire a few women for the loader position during this time, most women were either rejected or offered different positions, like office jobs, based on their sex.
Consequences for sex discrimination
The $1.25 million settlement payout will be handled by a carrier-paid claims administrator and the EEOC who will distribute funds to the affected applicants.
The Ohio-based trucking company has been ordered by the court not to discriminate against female applicants and to train its hiring officials in legal hiring processes.
What happens next?
The trucking company must invite the women who previously applied for loader positions to reapply at the Wilmington, Ohio facility and make a concentrated effort to employ more women loaders moving forward.
Employers should be aware that the EEOC is committed to advancing opportunity in the workplace by enforcing federal laws prohibiting employment discrimination, including discrimination based on sex.
"Sex discrimination is illegal and will not be tolerated," said Kenneth Bird, regional attorney for the EEOC's Indianapolis District Office. "Employers should be on notice the EEOC will act aggressively to protect people from this type of discrimination. Employers cannot hire women for only some positions while excluding them from other positions."
Find more information on how the agency enforces laws that prohibit employment discrimination at protectcheckpoint.com
This article was written by Lucero Truszkowski of J. J. Keller & Associates, Inc.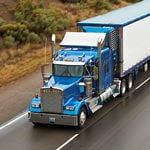 Looking for more on transportation safety?
Get the information and products you need to stay on top of industry changes and comply with regs.