OSHA regional emphasis program seeks to reduce hazards in stone products industry
Posted April 29, 2022
OSHA has initiated a Regional Emphasis Program (REP) to identify and reduce hazards in the cut stone and stone products industry. Enforcement will begin on May 17, 2022, and applies to private sector employers in Colorado, Montana, North Dakota, and South Dakota.
The REP addresses struck-by and crushing hazards for handling of granite, marble, limestone, slate, and other stone slabs. It also is focused on getting industry employers to alert workers to crystalline silica dust hazards and to follow required safety standards.
OSHA says that in the past 10 years, 30 percent of the documented overexposures to respirable crystalline silica in the region occurred in the cut stone and stone products industry. Crystalline silica is found in concrete, natural and artificial stone, and other materials, and generates respirable dust during cutting, grinding, and polishing processes.
This article was written by Rachel Krubsack of J. J. Keller & Associates, Inc.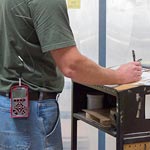 Looking for more on workplace safety?
Get the information and products you need to stay on top of industry changes and comply with regs.