OSHA proposes to revoke Arizona's state plan status
Posted April 22, 2022
OSHA has issued a proposed rule to reconsider and revoke the final approval of Arizona's State OSHA plan, which it says is in response to nearly a decade-long pattern of failures to adopt and enforce standards and enforcement policies at least as effective as those used by federal OSHA.
OSHA stated that it has grown increasingly concerned that actions by the Arizona State OSHA Plan suggest the state is either unable or unwilling to maintain its commitment to provide a program for worker safety and health protection as the OSH Act requires. For example, Arizona has failed to adopt adequate maximum penalty levels, occupational safety and health standards, National Emphasis Programs, and the COVID-19 Healthcare Emergency Temporary Standard.
If OSHA determines that Arizona is failing to comply with its obligation to remain at least as effective as federal OSHA, the agency may initiate proceedings to revoke final approval, and reinstate federal concurrent authority over occupational safety and health issues covered by the state plan.
Comments on the proposed rule will be accepted until May 26, 2022.
This article was written by Rachel Krubsack of J. J. Keller & Associates, Inc.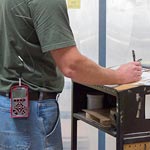 Looking for more on workplace safety?
Get the information and products you need to stay on top of industry changes and comply with regs.