OSHA launches heat emphasis program
Posted April 15, 2022
OSHA has launched a National Emphasis Program (NEP) to protect workers from heat illness and injuries in general industry, construction, maritime, and agriculture. The NEP requires each OSHA region to increase the number of heat inspections by 100 percent over the past five-year average.
OSHA will proactively initiate inspections in over 70 high-risk industries in indoor and outdoor work settings when the National Weather Service has issued a heat warning or advisory for a local area. Initial follow-up inspections will be conducted for establishments that were previously inspected as a result of a heat-related fatality and were issued citations.
On days when the heat index is 80°F or higher, OSHA inspectors and compliance assistance specialists will engage in proactive outreach and technical assistance to help stakeholders keep workers safe on the job. Inspectors will look for and address heat hazards during inspections, regardless of whether the industry is targeted in the NEP.
The NEP took effect April 8.
This article was written by Rachel Krubsack of J. J. Keller & Associates, Inc.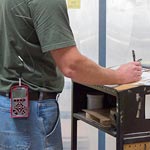 Looking for more on workplace safety?
Get the information and products you need to stay on top of industry changes and comply with regs.