Minimum wage, salary level for exempt employees likely going up
Posted April 1, 2022
A minimum wage increase and an update to the exempt employee minimum salary level changes are likely on the way in this year, according to Tammy McCutchen, a former administrator of the Wage and Hour Division.
McCutchen spoke at the Society for Human Resources Management (SHRM) Employment Law and Compliance Conference in Washington, D.C., on March 29, 2022. She pointed out that 30 states and 64 municipalities have a minimum wage that's higher than the federal rate of $7.25, which took effect in 2009.
"It's time," she said. "I think there is going to be a battle, and the battle will happen this year."
Minimum wage action this fall?
Among the minimum wage bills in Congress is the Raise the Wage Act would increase the minimum wage to $9.50 per hour upon passage and gradually raise it to $15 per hour. It has 37 cosponsors in the Senate and 201 cosponsors in the House.
The bill was introduced in 2021, and looming fall elections could incentivize Congress to bring it up for a vote. Its passage likely hinges on whether Democrats will compromise on the $15 per hour rate, McCutchen noted, as Senators Joe Manchin and Krysten Sinema are open to a lower increase, to $11 per hour.
"I don't think it will pass if they don't get off that $15 level," she said.
If the minimum wage bill passes, the first increase would likely take effect on January 1, 2023.
Salary level increase for exempt employees
Another change on the way is an increase in the minimum salary level for exempt employees. The Department of Labor (DOL) is likely to introduce changes to overtime exemption regulations in May, McCutchen said.
The minimum annual salary for exempt employees, currently at $35,568, would increase to more than $56,000 if the DOL adjusts the rate from its 2016 proposed rule for inflation.
"I can easily see this administration wanted to take the $47,464 amount and correct it for inflation and you're at $56,836," she said.
She noted that a proposal from the Economic Policy Institute would put the rate at more than $73,000, but that litigation could result if the proposed rate is too high.
"They could get a salary increase if they put it at $47,000 or $48,000, but if they put it at $50,000 it's going to be a long battle," she said.
The Department of Labor has been holding stakeholder meetings on the topic, she said, and added that the changes could also include an update to the duties test that is also part of the employee exemption analysis.
This article was written by Terri Dougherty of J. J. Keller & Associates, Inc.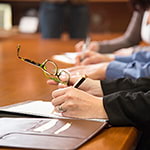 Looking for more on HR compliance?
Get the information and products you need to stay on top of industry changes and comply with regs.