Distracted drivers are dangerous drivers
Posted April 15, 2022
April is Distracted Driving Awareness Month, so it's a great time to remind drivers of commercial motor vehicles (CMVs) what qualifies as using a handheld device.
Part 392, Subpart H of the Federal Motor Carrier Safety Regulations (FMCSRs) prohibits drivers from using a hand-held mobile telephone or texting when driving a CMV.
Prohibited use of a hand-held mobile telephone includes:
Using at least one hand to hold the phone to conduct voice communication,
Dialing or answering the phone by pressing more than a single button, or
Reaching for a phone in a manner that requires you to maneuver so you are no longer in a seated driving position, restrained by a seat belt.
Drivers are also prohibited from texting while driving a commercial motor vehicle. Texting is defined as manually entering text into, or reading text from, an electronic device.
The penalties for using a hand-held mobile telephone or texting while driving a CMV include disqualification for 60 days if convicted of two violations in a three-year period and disqualification for 120 days if convicted of three violations in a three-year period. You can also be fined if convicted of these violations.
Also, drivers should be aware that in addition to these prohibitions, many states, counties, and municipalities have various cell phone, texting, and distracted laws that may also apply.
This article was written by Jen Loomis of J. J. Keller & Associates, Inc.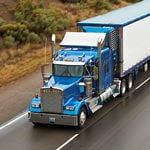 Looking for more on transportation safety?
Get the information and products you need to stay on top of industry changes and comply with regs.