Changes proposed for the Form I-9
Posted April 8, 2022
The U.S. Citizenship and Immigration Services (USCIS) and Department of Homeland Security (DHS) have unveiled proposed changes to the Form I-9 and invite employers to comment on the updates by May 31, 2022.
The form is used to verify a new employee's identity and authorization to work in the United States. It has sections that are completed by the employer and employee.
The changes:
Reduce the number of pages from two to one.
Turn the form's current Section 3 into a Reverification and Rehire Supplement that is only used as needed.
Provide three separate areas for entering information on the Reverification and Rehire Supplement.
Simplify the instructions, reducing them from 15 pages to seven.
Update the List of Acceptable Documents to include a link to List C documents that are issued by the DHS and acceptable receipts listed in the regulations at 8CFR 274a.2(b)(1)(vi)(A-C).
Remove electronic PDF enhancements to ensure that the form can be completed on all electronic devices.
With the changes, the departments are looking to reduce paper use and storage burdens on employers.
A notice relating to the form's revision was published in the Federal Register on March 30, 2022. Employers can submit comments on the proposed changes at www.regulations.gov.
Current form expiring
The current version of the Form I-9 expires on October 31, 2022. The USCIS is expected to release a final version of the updated form before the current version expires.
This article was written by Terri Dougherty of J. J. Keller & Associates, Inc.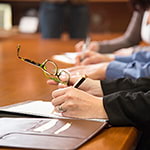 Looking for more on HR compliance?
Get the information and products you need to stay on top of industry changes and comply with regs.