NIOSH updates Pocket Guide to Chemical Hazards mobile app
Posted April 2, 2021
The National Institute for Occupational Safety and Health (NIOSH) has released a new app for its Pocket Guide to Chemical Hazards. The app offers new features and customizable options.
The NIOSH Pocket Guide to Chemical Hazards Native Application (mNPG) provides a database of workplace chemical information to workers, employers, and occupational safety and health professionals. It includes exposure limits, chemical and physical properties, recommended and required personal protective equipment, respirator information, and first aid information.
The app allows users to search by chemical name, trade name or synonym, DOT number, and CAS number. NIOSH notes that an updated print version is planned but has not yet released a timetable for it.
This article was written by Lisa Neuberger of J. J. Keller & Associates, Inc.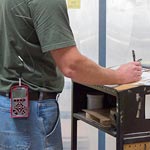 Looking for more on workplace safety?
Get the information and products you need to stay on top of industry changes and comply with regs.