Only six states have no form of stay-at-home orders
Posted April 2, 2020
As of March 31, 2020, over 80 percent of the U.S. workforce was under a federal, state, or local stay-at-home order, prohibiting them from entering their usual worksites. Only six states had no such order, either at the state level or at the municipal level, while 33 states had state-wide orders. The numbers are, however, subject to change.
Not only do many employers need to determine how to get work done if employees are not at work, employers may need to comply with new employee leave provisions, including for employees who are under a federal, state, or local quarantine or isolation order. Employees may be eligible for two weeks paid sick leave and an additional 10 weeks of paid family and medical leave for childcare issues due to the outbreak, but the leave provisions apply only to private employers with fewer than 500 employees and most public employers.
Some employees have the ability to perform their jobs from home, so they can help employers carry on with business. Many, however, have jobs that do not allow for working from home.
Most of the stay-at-home orders have exceptions for what the order defines as essential jobs. These workers may continue to go to work as usual. The exceptions often include grocery stores, pharmacies, restaurants for takeout or delivery, news media, gas stations, financial institutions, mail or delivery services, manufacture of critical products and industries, and hotels.
Businesses with excepted operations could find themselves with a limited supply of employees, depending upon the new demands. Delivery services, for example, have seen an increase in demand as more people abide by the orders, or simply choose to stay home and have products delivered. These types of organizations, therefore, continue to hire while other types of organizations are facing layoffs and furloughs as business decreases.
Some businesses are getting creative. At least one plumbing company is offering to pick up and deliver groceries.
States and municipalities will likely continue to put such orders in place, as the federal government has not yet put one in place for the entire country. In some situations, a municipal order may be at odds with a state order, adding to the confusion for employers.
This article was written by Darlene Clabault of J. J. Keller & Associates, Inc.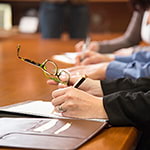 Looking for more on HR compliance?
Get the information and products you need to stay on top of industry changes and comply with regs.