OSHA will use discretion, consider good faith on annual training and testing delayed by COVID-19
Posted April 20, 2020
With the COVID-19 pandemic, state restrictions on travel and business operations, as well as limited access to medical testing facilities, may limit the ability of employers to provide training or to conduct auditing, inspections, testing, and other services. Examples would include annual respirator fit testing, annual audiograms, and construction crane operator certification.
Under a memorandum released April 16, 2020, OSHA stated that during an inspection, Compliance Safety and Health Officers (CSHOs) should evaluate whether the employer made good faith efforts to comply with applicable standards. Where compliance was not possible, CSHOs should ensure that employees were not exposed to hazards from tasks, processes, or equipment for which they were not prepared or trained.
As part of assessing good faith efforts, CSHOs should evaluate whether the employer thoroughly explored all options to comply (e.g., the use of virtual or online training). CSHOs should also consider any alternative protections implemented or provided, such as engineering or administrative controls, and whether the employer took steps to reschedule the required annual activity as soon as possible.
Where an employer is unable to comply because local authorities required the workplace to close, the employer should demonstrate a good faith attempt to meet the requirements as soon as possible following the re-opening of the workplace.
OSHA may issue citations if the employer cannot demonstrate any efforts to comply. However, where an employer made attempts to comply in good faith, the memo directs Area Offices to take such efforts into "strong consideration" in determining whether to cite a violation. Area Offices will request to see any notes on the efforts the employer made to comply, letters, or documentation showing that providers had closed their business to support an enforcement decision.
This guidance takes effect immediately, but is time-limited to the current public health crisis.
This article was written by Ed Zalewski of J. J. Keller & Associates, Inc.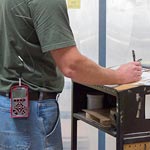 Looking for more on workplace safety?
Get the information and products you need to stay on top of industry changes and comply with regs.