May employees receive unemployment while on unpaid FMLA leave?
Posted April 29, 2020
In many situations, when an employee is not working, he or she may collect unemployment benefits. Those benefits, however, are generally reserved for those who are unemployed. Employees on leave under the federal Family and Medical Leave Act (FMLA) are not generally considered to be unemployed. State unemployment laws, however, can define "unemployed" as they see fit, and employers can benefit from understanding how that term is defined and how it might be applied to employees on unpaid FMLA leave.
Case in point
Ophelia, an employee, began taking FMLA leave for a serious health condition on August 16. Her company-provided accrued paid leave ran out three days later, on August 19. From that point she was on unpaid FMLA leave.
On October 2, during the unpaid FMLA leave, Ophelia applied for unemployment benefits. Her employer contested the claim arguing that she was still employed. The state unemployment agency disagreed, indicating that, because Ophelia was not getting paid, she was considered unemployed. The issue was sent to the courts.
The employer argued that Ophelia was not separated from employment with the company and, therefore, was not eligible for unemployment benefits. She continued to be covered by the company group health care plan and her job was being held – none of which are hallmarks of an unemployed individual. On the other side of the coin, the FMLA entitles eligible employees to FMLA leave; therefore, unemployed persons are not entitled to FMLA leave.
The unemployment agency, however, argued that Ophelia was unemployed while on an unpaid leave of absence for a medically verifiable illness. She did not perform any work or received any pay. Therefore, if she met all other requirements, she would be entitled to unemployment benefits.
The case went to an appeals court, where it was indicated that it would be absurd for an individual to be entitled to unemployment benefits during FMLA leave. Not necessarily, said the state supreme court, where the case ultimately landed. The state unemployment law defines "unemployed" as when the individual does not perform services for wages in excess of a certain amount, among other things.
There are some exceptions to being disqualified to receive unemployment, and one of those is when the individual left work because of an illness, which is basically what Ophelia did. Because she was not performing services for wages, she met the definition of unemployed, and was not disqualified from receiving benefits solely because she was on FMLA leave. The situation did not require a formal severance of the employer-employee relationship.
Therefore, according to the final ruling, an individual on unpaid FMLA leave could fit within the unemployment law's definition of the term "unemployed." While this might not happen often, it could happen. The employee would need to then proceed to the eligibility phase of the unemployment benefits application process.
While this state's definition of "unemployed" opened the door for an employee to receive unemployment benefits during unpaid FMLA leave, your state's definition might not. With the current proliferation of unemployment claims, being aware of the definition can help avoid surprises.
Be aware that, under the current pandemic, federal law allows states to pay unemployment benefits where:
An employer temporarily ceases operations due to COVID-19, preventing employees from coming to work;
An individual is quarantined with the expectation of returning to work after the quarantine is over; and
An individual leaves employment due to a risk of exposure or infection or to care for a family member.
In addition, federal law does not require an employee to quit in order to receive unemployment benefits due to the impact of COVID-19.
An individual receiving paid sick leave or paid family leave, even under the Families First Coronavirus Response Act, is still receiving pay. Thus, generally speaking, the individual is not "unemployed," so the individual is ineligible for unemployment insurance.
This article was written by Darlene Clabault of J. J. Keller & Associates, Inc.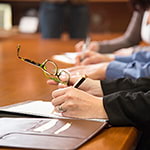 Looking for more on HR compliance?
Get the information and products you need to stay on top of industry changes and comply with regs.