Employers still need to comply with anti-discrimination laws
Posted April 15, 2020
Employee leave and personal protective equipment have occupied many work-related headlines lately, but employers must also remain vigilant in their non-discrimination endeavors. Laws such as Title VII of the Civil Rights Act (Title VII), the Americans with Disabilities Act (ADA) and the Age Discrimination in Employment Act (ADEA) remain in full force. These laws do not, however, interfere with or prevent employers from following the guidelines and suggestions made by the CDC or state/local public health authorities about steps they should take regarding COVID-19. The CDC has, however, asked that people not show prejudice to people of Asian descent because of fear of the virus.
Reports on race discrimination related to the outbreak have been surfacing and employers need to ensure that such behavior does not exist in the workplace, whether online or in a brick-and-mortar setting. While many employers have discrimination policies, the new scattered workforce can bring some novel risks to consider.
If, for example, corporate offices are far removed physically and/or organizationally from front-line employees or first-line supervisors, managers may feel (or may actually be) unaccountable for their behavior and may act outside the bounds of workplace rules. Some might Managers may also be unaware of how to address harassment issues and may be reluctant to call headquarters for direction. To help reduce the risk, here are some tips:
Ensure that compliance training reaches all levels of the organization, regardless of how geographically dispersed workplaces may be,
Ensure that compliance training for area managers includes their responsibility for sites under their jurisdiction.
Develop systems for employees in geographically diverse locations to connect and communicate.
Create opportunities for isolated workers to connect with each other (e.g., in person, online) to share concerns.
Proactively identify current events — national and local — that are likely to be discussed in the workplace.
Remind the workforce of the types of conduct that are unacceptable in the workplace.
Apply workplace rules uniformly, regardless of rank or value to the employer.
Employers can help reduce the chance of harassment by explicitly communicating to the workforce that fear of the COVID-19 pandemic should not be misdirected against individuals because of a protected characteristic, including their national origin, race, or other prohibited bases.
This article was written by Darlene Clabault of J. J. Keller & Associates, Inc.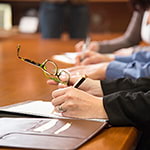 Looking for more on HR compliance?
Get the information and products you need to stay on top of industry changes and comply with regs.