Pennsylvania sets May 1 deadline for carriers to obtain lanternfly permit
Posted April 25, 2019
Motor carriers conducting business in the southeastern corner of Pennsylvania will be required as of May 1, 2019, to obtain a permit to move vehicles, equipment, and goods out of a quarantined zone of the state because of an invasive species.
The Pennsylvania Department of Agriculture issued a quarantine for counties in the area because of the presence of the spotted lanternfly, an invasive species native to Asia that was estimated to arrive in Southeastern Pennsylvania in 2012. It was discovered in Berks County in 2014.
Obtaining the permit requires that carriers who conduct business in the area designate one employee — typically an owner, manager, or supervisor — to take a free online course to train drivers within the company on how to comply with the quarantine regulations. A link to the training course on the Penn State University Extension website is available here.
A YouTube informational video on the training can also be found here.
Carriers with drivers who have not completed the training by the deadline could face litigation, could be turned away from the quarantine area, or be stopped for inspection by law enforcement. Upon completion of the training course, participants will receive a paper permit within two to three weeks.
The lanternfly does not bite or sting, but feeds on sap from trunks, stems, or leaves and can harm agricultural crops such as grapes, apples, peaches, vegetables, and trees that grow in the region.
The lanternfly has a lifecycle of one year. The adults travel by hopping and flying, and the nymphs cling to most surfaces, including moving vehicles. Egg masses can be found on any flat surfaces.
Any goods and equipment stored outdoors are breeding grounds for the lanternfly, such as:
Brush and debris;
Landscaping, remodeling, and construction waste;
Log, stumps, tree parts, and firewood;
Packing materials such as wood crates;
Plants;
Outdoor grills, tables, and chairs;
Vehicles; and
Stone and tile.
When venturing into the area, drivers are encouraged to:
Not park under trees or tree lines,
Not leave vehicle doors open,
Inspect truck and trailer and their body for hitchhiking flies,
Check equipment for insects or egg masses, and
Swat or smash as many as lanternflies as possible.
Counties affected by the quarantine are: Berks, Bucks, Carbon, Chester, Dauphin, Delaware, Lancaster, Lebanon, Lehigh, Monroe, Montgomery, Northampton, Philadelphia, and Schuylkill.
---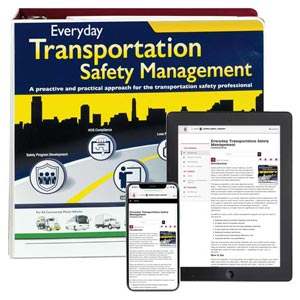 J. J. Keller's Everyday Transportation Safety Management Manual - Your practical guide to implementing and sustaining a successful safety transport management program..
---
J. J. Keller's FREE Workplace SafetyClicks™ email newsletter brings quick-read safety and compliance news right to your email box.
Sign up to receive Workplace SafetyClicks™.