It's official: Employers to provide employee pay data by September 30
Posted April 29, 2019
A judge in the District Court for the District of Columbia has ordered the Equal Employment Opportunity Commission (EEOC) to begin collecting employee pay data for the EEO-1 report by September 20, 2019. Therefore, employers who are required to file EEO-1 reports will need to provide the pay information to the EEOC.
The relevant case revolved around an organization that wants the EEOC to collect the pay data to help show the gap in pay between gender. The EEOC was on course to collect this information when the government was shut down. The EEOC faltered at going forward with the collection, and the organization pushed back.
The EEOC came up with the September 30 deadline earlier this month, and the court now offered the EEOC a couple options regarding the collection: Submit 2017 pay data with the 2018 data by September 30, or submit 2019 pay information for the 2020 reporting period. The EEOC has until May 3 to make its choice. No matter what the EEOC chooses, however, employers will need to submit 2018 pay data by September 30.
Sources indicate that, in light of this development, the EEOC signaled that it could make the collection portal available to employers by July 15 and provide information and training to employers before then.
Therefore, employers who are required to provide EEO-1 reports should be ramping up efforts to meet this new reporting requirement. The information to be provided includes aggregate data on pay ranges (W-2 earnings) and hours worked. According to the original regulatory proposal, the information will be submitted electronically. Any EEO-1 filer seeking an exemption from the electronic requirement may use the existing EEO-1 process for seeking special reporting procedure.
This new pay information collection should not be confused with the other, traditional collection. Employers must still submit the usual race/ethnicity/sex by job category EEO-1 information to the EEOC by May 31.
EEO-1 reports are generally required from all private employers with 100 or more employees and all federal contractors (private employers), who have 50 or more employees and have a contract of $50,000 or more. Employers are instructed to report data from one single payroll period (i.e., any time period covered by one single payroll cycle) of their choosing that occurred between October 1 and December 31 of the reporting year.
This article was written by Darlene M. Clabault, SHRM-CP, PHR, CLMS, of J. J. Keller & Associates, Inc.
---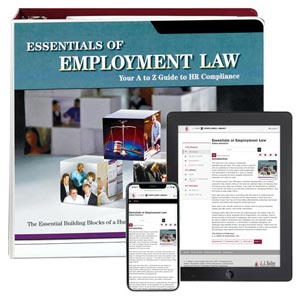 J. J. Keller's Essentials of Employment Law Manual covers more than 100 vital HR topics, including FMLA, ADA, HIPAA, FLSA, COBRA and more.
---
J. J. Keller's FREE HR SafetyClicks™ email newsletter brings quick-read safety and compliance news right to your email box.
Sign up to receive HR SafetyClicks™.