Study shows theater workers have high rates of concussions
Posted April 6, 2018
A new survey study in the March Journal of Occupational and Environmental Medicine shows that athletes aren't the only professionals at risk of work-related concussions. The study found two-thirds of theater technicians and actors have experienced concussions while on the job in theater environments.
While researchers found theater professionals have high rates of head impacts and concussion symptoms, these injuries often go unreported, undiagnosed, and untreated. According to the study, nearly all the research on work-related concussions has focused on athletes. However, the theater environment also contains many risks for head injuries, including low lighting levels, backstage equipment, and stage combat.
The study focused on the online survey responses of 209 theater workers. Most respondents were employed in production or technical roles, such as lighting technicians or stage managers. The majority said they had worked in the industry for at least ten years.
Sixty-seven percent of those surveyed reported one or more theater-related head impact during their careers. Roughly 40 percent experience more than five head injuries. Most respondents continued to work after their head impacts, even though almost all the injuries resulted in concussion-like symptoms. Approximately half of the workers did not report the incident.
Of those who consulted a healthcare professional, most were diagnosed with a concussion although almost a third of those workers did not receive the recommended care, such as a graded protocol for resuming work activities.
The study's authors say there is a need for increased awareness of the frequency and seriousness of occupational injuries in theater workers. In addition, theater personnel should have better access to "definitive, evidence-based healthcare" for work-related concussions.
---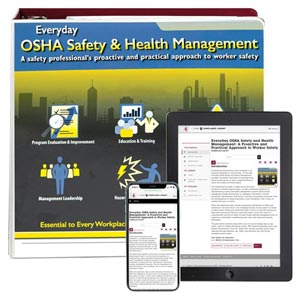 J. J. Keller's Everyday OSHA Safety & Health Management Manual provides "how-to" guidance and tools on a wide range of workplace health and safety issues.
---
J. J. Keller's FREE Workplace SafetyClicks™ email newsletter brings quick-read workplace safety and compliance news right to your email box.