OSHA helps drivers stay safe once they get where they're going
Posted April 17, 2018
A new OSHA publication addresses safe practices for commercial vehicle drivers once they've arrived at their destination. The Agency says drivers must be aware about the hazards they may face at the warehouse, dock, or construction site, and companies must communicate their operating procedures to drivers.
According to OSHA, drivers should follow company safety practices when parking, backing up, and coupling or uncoupling tractor trailers.
When parking, drivers should:
Park on level ground and close to the receiving door or site;
Set and test brakes;
Place wheel chocks between the tandem wheels of the trailer; and
Not attempt to stop a rolling vehicle.
When backing up, drivers should:
Get out and look;
Use flashers, horn, and backup alarms;
Check both mirrors;
Roll down windows to hear;
Know the vehicle's blind spots;
Use a spotter;
Back up slowly; and
Stand clear when opening doors for unloading.
When coupling and uncoupling the tractor trailer, drivers should:
Only perform the procedure if they have been trained to do so;
Ensure stable footing when releasing the fifth wheel or adjusting tandems;
Wear bright, visible clothes;
Set parking brakes and perform tug test;
Keep clear of tires and frames; and
Check for vehicular traffic near them.
---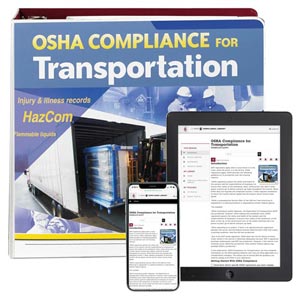 J. J. Keller's OSHA Compliance for Transportation Manual is designed specifically for the transportation industry to aid in OSHA compliance.
---
J. J. Keller's FREE Workplace SafetyClicks™ email newsletter brings quick-read workplace safety and compliance news right to your email box.