Feel free to require appropriate notice of intermittent leave
Posted April 19, 2018
It was about 20 minutes before the shift was to begin when John Q. Manager answered his phone.
"Hi, John, this is Joe Employee."
"What can I do for you, Joe?"
"I won't be in today; I don't feel well. I hope to be back in tomorrow. If not, I'll let you know."
Unforeseen, intermittent FMLA leave has been one of, if not the, greatest sources of complaints about the law. Some steps, however, can help ease the pain. One of those steps is mandating that employees on this unforeseen intermittent leave provide solid notice of the need for the leave – each time they take it.
It is important for the employee to let you know as soon as possible each time FMLA leave is needed and to respond to questions from you designed to determine if a particular leave request/absence is FMLA-qualifying. If the employee fails to provide you with enough information to determine whether the leave is FMLA-qualifying, the leave may not be protected.
Remember, the "you" could be the employee's supervisor. Therefore, supervisors should have at least rudimentary training in how to handle employee calls.
Appropriate notice
Once approved for a particular FMLA leave reason, if additional leave is needed for that reason, the employee must at least reference that reason, or the need for FMLA leave. For example, if an employee with a certification supporting leave for migraines calls in and indicates that he is staying home because of a migraine, that would be enough. If he indicated that he is staying home for his FMLA-qualifying reason, that too would be enough. Simply calling in sick, with no other information, however, is not enough (as in our opening story). If that happens, you need not apply FMLA protections to the absence. Reminding employees on unforeseeable intermittent leave might help both them and you. You could ask whether the absence is due to the employee's FMLA-qualifying reason.
In situations in which the employee is first requesting leave, however, you (or whoever answers the phone) should ask additional questions to help determine whether the leave is or could be FMLA-qualifying. This doesn't mean that you may barrage the employee with 20 questions regarding an absence. Some questions might include whether the employee is unable to perform job duties or is under the care of a doctor. Nothing too probing. The employee just needs to let you know the reason.
The employee must also comply with your company policies for requesting leave unless unusual circumstances prevent him or her from doing so. If, for example, your company requires that employee call in by a certain time, or to a certain individual (or entity, if using a third party), then you may hold them to such requirements. If they fail to do so, and there are no extenuating circumstances regarding the failure, then you may deny FMLA protections for the absence.
You need not let employees take FMLA leave for any reason, so feel free to require that they provide appropriate notice of each instance of unforeseeable, intermittent leave.
This article was written by Darlene M. Clabault of J. J. Keller & Associates, Inc.
---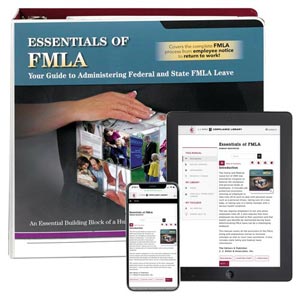 Learn more about products and services that provide you with confidential, consistent, high-quality leave management on our FMLA resource page.
---
J. J. Keller's FREE HRClicks™ email newsletter brings quick-read human resources-related news right to your email inbox.