Carrier shut down due to hazmat violations
Posted April 12, 2018
A motor carrier based in Crossville, Tennessee, was ordered to immediately cease all transportation in commerce of explosives and/or a placardable quantity of hazardous material (HM) after a federal investigation found the company posed an imminent hazard to public safety. The Federal Motor Carrier Safety Administration (FMCSA) served the federal order on April 9, 2018.
The sequence of events began with a roadside inspection on March 23, 2018. According to FMCSA, the Tennessee Highway Patrol stopped one of the company's commercial motor vehicles, a pickup truck, along Highway 28 in Sequatchie County, Tennessee, and subjected it to an unannounced roadside safety inspection. Enforcement allegedly found the pickup truck was transporting explosives in violation of numerous federal Hazardous Materials Regulations (HMR) as well as Federal Motor Carrier Safety Regulations (FMCSRs). As a result, the vehicle and the driver were immediately placed out of service.
FMCSA reports the truck's cargo was haphazardly placed and unsecured. It included:
Numerous cases of Class 1 explosives, including ammonium nitrate-fuel oil mixture;
Electric detonators;
Blasting caps; and
Detonating cord.
Enforcement supposedly found Class 1 explosives piled in the truck bed next to metal objects (i.e., pipes, buckets and work tools) and inside a bent metal toolbox. The denotators and detonating cord in the truck's cab were found to be improperly packaged (i.e., in a cardboard box) and/or not labelled. It is illegal to transport detonators on the same vehicle as explosive material, unless the detonators are packed in a USDOT specification container or package.
Investigators also found the company did not comply with the following safety requirements:
HM shipping papers.
HM placards on the vehicle.
Emergency response information.
Use of a qualified driver. The driver did not possess:

Commercial driver's license,
HM endorsement, or
Medical certification.

Specialized HM training.
DOT drug and alcohol testing program.
FMCSA is also considering civil penalties for the safety violations discovered during the investigation and may refer this matter for criminal prosecution.
---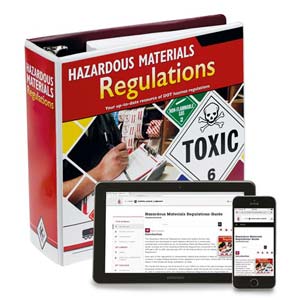 J. J. Keller's Hazardous Materials Regulations Guide provides quick access to up-to-date DOT Hazardous Materials Regulations, including §172.101 Hazardous Materials Table and amendments from HM-233B, HM-145O, HM-218F, HM-244D, and HM-215K.
---
J. J. Keller's FREE Transportation SafetyClicks™ email newsletter brings quick-read safety and compliance news right to your email box.