USCIS takes targeted approach to uncover H-1B visa abuse
Posted April 5, 2017
U.S. Citizenship and Immigration Services (USCIS) announced on April 3 multiple measures to further deter and detect H-1B visa fraud and abuse.
The H-1B visa program is designed to help U.S. companies recruit highly-skilled foreign nationals when there is a shortage of qualified workers in the country. According to USCIS, many American workers who are as qualified, willing, and deserving to work in these fields have been unfairly disadvantaged. The anti-discrimination provision of the Immigration and Nationality Act (INA) generally prohibits employers from discriminating against U.S. workers because of their citizenship or national origin in hiring, firing, and recruiting.
USCIS has begun taking a more targeted approach when making visits to the worksites of H-1B employees and H-1B petitioners. USCIS will focus on:
Cases where USCIS cannot validate the employer's basic business information through commercially available data;
H-1B-dependent employers (those who have a high ratio of H-1B workers as compared to U.S. workers, as defined by statute); and
Employers petitioning for H-1B workers who work off-site at another company or organization's location.
USCIS says it will continue random and unannounced visits nationwide. Targeted site visits will allow the agency to focus resources where fraud and abuse of the H-1B program may be more likely to occur, and determine whether H-1B-dependent employers are evading their obligation to make a good faith effort to recruit U.S. workers.
---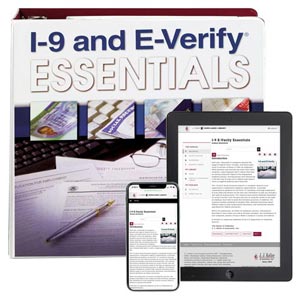 J. J. Keller's I-9 and E-Verify Essentials Manual helps you avoid I-9 errors and costly penalties related to the employment authorization process.
---
J. J. Keller's FREE HRClicks™ email newsletter brings quick-read human resources-related news right to your email inbox.