BLS survey shows how much time employees spend on tasks outside of work
Posted April 12, 2017
The Bureau of Labor Statistics (BLS) recently released a survey revealing how much time Americans spend doing paid work as well as unpaid work such as childcare and volunteering. This BLS survey is slightly unconventional because the agency typically tracks employment, wages, and prices. However, BLS says the data is applicable because it shows how people spend their time away from work which has economic and policy-relevant significance.
The data can be valuable to employers when planning how to improve employee retention and work-life balance.
BLS results from the American Time Use Survey are highlighted below. BLS also provided details on how the data can be useful for employees, employers, and lawmakers.
Career type. Thirty-eight percent of workers in management, business, and financial operations occupations, and 35 percent of those employed in professional and related occupations, do some or all of their work at home on days they work. Workers employed in other occupations are less likely to work at home.

Information like this can be important for career development and for people thinking about starting or changing careers. For those interested in job flexibility, or for those who want more separation between their work and home, this information can help them identify occupations that are the right fit and decide which careers to pursue.

Parenting. Parents whose youngest child is under age 6 spend 2 hours 8 minutes per day on average providing childcare as their main activity, compared to 1 hour for parents whose youngest child is between the ages of 6 and 12.

These statistics provide average measures of the time involved in directly caring for children, and they can be helpful to health and community workers whose work supports parents, as well as employers interested in developing ways to promote work-life balance and staff retention.

Commuting. Employed people spend an average of 1 hour 6 minutes driving their vehicles, 7 minutes in the passenger seat, and 8 minutes traveling by another mode of transportation on days they work.

Knowing how workers travel and the amount of time they spend using different modes of transportation can be useful to a variety of people, including city and transportation planners, land and real estate developers, and designers in the automobile industry.

Elder care. Sixty-one percent of unpaid eldercare providers are employed.

Knowing the characteristics of those who provide unpaid care for aging family, friends, and neighbors can help lawmakers create targeted policies and aid community workers in developing supportive programs.
---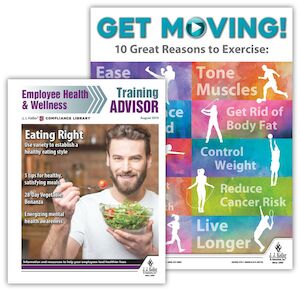 J. J. Keller's LivingRight®: Health & Wellness Awareness Program offers an easy way to help control healthcare costs and promote employee wellness.
---
J. J. Keller's FREE HRClicks™ email newsletter brings quick-read human resources-related news right to your email inbox.