Who is family for FMLA purposes?
Posted April 22, 2016
As she tried to ease into her Monday, Emily was remembering the fun she had over the weekend with her family. Her parents, her brother, her sister, her kids, and even her grandmother went out on a boat and did some fishing. She was still mulling over the memories when Karl asked her if he could take some time off to care for his grandfather, who lived with Karl. Karl was his grandfather's primary caregiver, and assumed responsibility for his grandfather's activities of daily living.
Upon hearing Karl's question, Emily's mulling shifted from the weekend to the Family and Medical Leave Act (FMLA), and to whether Karl could take FMLA leave to care for his grandfather.
The FMLA generally defines family members as the following:
Parents (biological, adoptive, step, foster, or anyone who stood in loco parentis to the employee when the employee was a child – does not include parents in law).
Children (biological, adopted, foster, step, legal ward, or a child of a person standing in loco parentis; the child must be either under aged 18 or age 18 or older and incapable of self-care because of a mental or physical disability).
Spouses (husband or wife; the other person with whom an individual entered into marriage as defined or recognized under state law for purposes of marriage in the state in which the marriage was entered into or, in the case of a marriage entered into outside of any state, if the marriage is valid in the place where entered into and could have been entered into in at least one state; could be same-sex or common law).
To stand in loco parentis, an individual must generally put himself in the situation of a lawful parent by assuming the obligations incident to the parental relation, even without going through the formalities for legal adoption. Generally, the individual must have or have had day-to-day responsibilities to care for or financially support a child. A legal or biological relationship between the "child" and "parent" is not required.
For Emily's purpose, if Karl's grandfather stood in as a parent to Karl when Karl was a child, Karl could be entitled to FMLA leave to care for his "parent." If not, the grandfather would not fall under the FMLA's definition of family members for which Karl could take FMLA leave.
Having power of attorney does not automatically create a familial relationship for purposes of the FMLA. The relationship would need to fall under the definitions.
If Karl's relationship with his grandfather does fall under the definitions, Karl should provide sufficient information to make Emily aware of the in loco parentis relationship. Such documentation may take the form of a simple statement from Karl asserting the relationship. Karl's statement could include, for example, the name of his grandfather and a statement of his grandfather's in loco relationship to him. Generally, Karl would get to choose what to provide, and if he provides a statement, Emily could ask that it be put in writing.
Emily's right to documentation of family relationship is the same for an individual who asserts an in loco parentis relationship as it is for a biological, adoptive, foster or step parent.
This article was written by Darlene Clabault of J. J. Keller & Associates, Inc.
---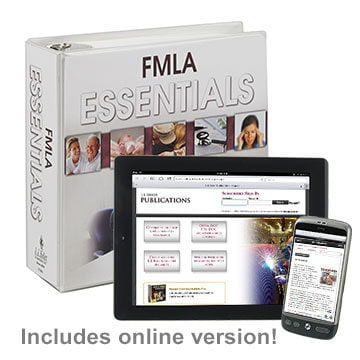 J. J. Keller's FMLA Essentials manual helps HR pros understand and comply with the requirements, control costs related to leave taken and minimize the law's potential disruption to their organizations' operations.
---
J. J. Keller's FREE HRClicks™ email newsletter brings quick-read human resources-related news right to your email inbox.