Stand Up 4 Grain Safety Week set for March 27-31
Posted March 24, 2023
OSHA recently cited a company for $531K in penalties when a grain handler suffocated after being engulfed in a corn silo. Stand Up 4 Grain Safety, scheduled for March 27-31, brings attention to such preventable hazards in grain handling and storage.
The week begins with a virtual kick-off event on March 27, with subsequent daily learning sessions presented by industry experts over Zoom:
March 28: Powered industrial trucks
March 29: Preventative maintenance
March 30: Heat stress and extreme weather events
March 31: Anhydrous ammonia and fumigation
Employers are encouraged to have their own events such as toolbox talks, equipment demonstrations, or stand-ups focused on a specific safety topic.
This article was written by Rachel Krubsack of J. J. Keller & Associates, Inc.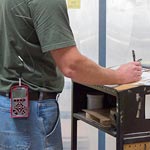 Looking for more on workplace safety?
Get the information and products you need to stay on top of industry changes and comply with regs.