Lack of oversight at issue in fatal crash
Posted March 31, 2023
A federal crash investigation in Arizona found that a motor carrier's failure to enforce its own safety policies likely contributed to the fatal incident.
The crash occurred on June 9, 2021, when a milk hauler drove his tractor-trailer into a line of stopped traffic in Phoenix at 62 miles per hour, without braking. Eight vehicles were involved in the crash, four persons were killed, and 11 were injured.
In a meeting held March 28, 2023, the National Transportation Safety Board (NTSB) concluded that the probable cause of the crash, ultimately, was the truck driver's fatigue. He generally worked 13-14 hours per day, didn't arrive home until early morning on a shifting schedule, and had fewer than six hours of sleep on the day of the crash.
Blame was also laid at his employer's feet. The NTSB concluded the motor carrier had poor oversight of its drivers, lacked a fatigue management program, and failed to enforce its own policies. In addition, the company had driver- and road-facing dashcams but failed to use the data to improve safety and ignored many of the recorded events.
The company had a policy stating that drivers were limited to 60 on-duty hours in 7 days and that drivers would be audited at the end of every pay period. Investigator found that several drivers for the company worked well beyond 60 hours each week without repercussion.
Another target was the federal hours-of-service exemption for agriculture, for which milk haulers are eligible. The Board recommends that the Federal Motor Carrier Safety Administration require motor carriers using the exemption to implement a fatigue management program, although the agency's authority to do so remains unclear.
This article was written by Daren Hansen of J. J. Keller & Associates, Inc.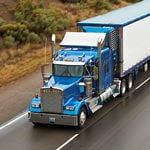 Looking for more on transportation safety?
Get the information and products you need to stay on top of industry changes and comply with regs.