Do your forklift operators need PHMSA hazmat training?
Posted March 10, 2023
Someone recently asked the Pipeline and Hazardous Materials Safety Administration (PHMSA) if hazmat training is required for a forklift operator that moves cargo from a truck to an aircraft cargo hold floor, under the supervision of a hazmat trained employee of the air carrier. The forklift operator does not handle the subsequent cargo positioning and securement on the aircraft. However, Reference No. 22-0066, a Nov. 22, 2022, interpretation from PHMSA, says hazmat training per 49 CFR 172.704 is required for this forklift operator.
Since the forklift operator is handling hazmat cargo by moving it from the truck and then placing it onto the aircraft, this would be considered "loading incidental to movement," which is a covered hazmat function that would subject a person to hazmat training requirements as prescribed in §172.704. All hazmat employees require this training. See a definition of hazmat employee at §171.8.
This article was written by Tricia Hodkiewicz of J. J. Keller & Associates, Inc.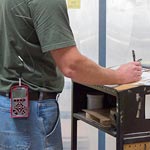 Looking for more on workplace safety?
Get the information and products you need to stay on top of industry changes and comply with regs.