California OSH Appeals Board clarifies provision of water requirements
Posted March 3, 2023
In a decision issued February 6, 2023, California's Department of Industrial Relations' Occupational Safety and Health Appeals Board (OSHAB) set a precedent regarding workers' access to water at outdoor worksites, clarifying that the term "as close as practicable" means that water must be as close as reasonably can be accomplished to encourage frequent water consumption.
The decision comes several years after Cal/OSHA opened a complaint-initiated safety inspection at a vineyard in August 2018. Inspectors found some workers had to climb through multiple grape trellises to access drinking water. The company was cited by Cal/OSHA on January 7, 2019, for once again not having water as close as practicable for their employees, which is a serious violation.
California Division of Occupational Safety and Health (Cal/OSHA) Chief Jeff Killip stated, "This decision provides clarity and should serve as a reminder that employers must take adequate steps to ensure that potable drinking water is as close as practicable to workers."
This article was written by Carmen King of J. J. Keller & Associates, Inc.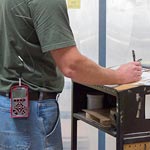 Looking for more on workplace safety?
Get the information and products you need to stay on top of industry changes and comply with regs.