OSHA reopens rulemaking record, schedules public hearing on healthcare COVID-19 rule
Posted March 25, 2022
OSHA has partially reopened the comment period and has scheduled an informal public hearing on its COVID-19 healthcare rule.
On June 21, 2021, OSHA issued an emergency temporary standard (ETS) to protect workers in healthcare settings from occupational exposure to COVID-19. The ETS – which also served as a proposed rule – focused on healthcare workers most likely to have contact with people infected with the virus. The agency is reopening the rulemaking record to allow for new data and comments on specific topics.
As OSHA works towards a permanent regulatory solution, employers must continue to comply with their obligations under the General Duty Clause, Personal Protective Equipment, and Respiratory Protection Standards, as well as other applicable OSHA standards to protect their employees against the hazard of COVID-19 in the workplace.
Comments can be submitted online at regulations.gov by April 22; search for Docket No. OSHA-2020-0004. The public hearing will be held virtually on April 27, 2022.
This article was written by Rachel Krubsack of J. J. Keller & Associates, Inc.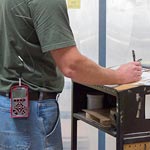 Looking for more on workplace safety?
Get the information and products you need to stay on top of industry changes and comply with regs.