Got warehouse or logistics workers? You're on DOL's radar
Posted March 4, 2022
The Department of Labor's Wage and Hour Division (WHD) announced that it is putting warehouse and logistics industries on its radar when it comes to compliance with laws it enforces such as the Family and Medical Leave Act (FMLA).
The agency has not provided any details of the initiative but indicates that it will take heightened action to ensure that warehouse and logistics workers' wages and workplace rights are protected. These workers include delivery drivers and truck drivers who are part of global supply chain, which has seen an increased demand and constraints leading to immense strain. Amid all this, businesses often overlook compliance to various laws, such as the FMLA.
Therefore, the DOL wants to make sure these laws are not overlooked.
According to Acting Wage and Hour Division Administrator Jessica Looman, the WHD "…will use all of its tools to ensure employers comply with federal labor laws." These tools have been known to include investigations; visits to companies to ensure they are complying.
Investigations can involve reviewing a company's policies, practices, documentation, recordkeeping, and so on. Now might be a good time to do some early Spring cleaning — or at least a review — of all things FMLA. Training supervisors and managers can also help keep the FMLA ship running smoothly.
Remember, the agency earlier indicated it was hiring more investigators to support its enforcement efforts. Investigator responsibilities include conducting investigations to determine if employers are affording workers them their rights as the law requires. Another clue that more employers, particularly those in the warehouse and logistics industries, will be getting a visit from the WHD.  
This article was written by Darlene Clabault of J. J. Keller & Associates, Inc.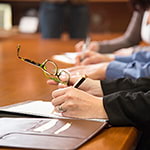 Looking for more on HR compliance?
Get the information and products you need to stay on top of industry changes and comply with regs.