FMCSA eliminates the annual list of violations
Posted March 10, 2022
The Federal Motor Carrier Safety Administration (FMCSA) published a final rule that will eliminate the need to have drivers provide the Record of Violations (391.27). The change is effective May 9, 2022.
This final rule:
Addresses the duplicative nature of the annual list of violations, and
Replaces the term "state" with "licensing authority" to clarify that motor carriers obtain motor vehicle records (MVRs) from foreign agencies when the driver is licensed in Canada or Mexico.
Key points related to the changes in the final rule:
As of the effective date, carriers will not be required to request the Record of Violations from drivers.
In the driver qualification file, carriers must retain the Record of Violations documents collected before the effective date for three years from the document date, unless otherwise clarified by FMCSA.
Per 391.25, carriers must continue to obtain an MVR at least annually from each driver's licensing authority from which a driver holds or has held a commercial motor vehicle (CMV) operator's license or permit. The annual review of the driver's accident and violation record as well as any other information must also be completed with a note entered in the DQ file with the person's name and date conducting the review.
Carriers must run an MVR from each licensing authority where the driver holds or held a license in the preceding three years when hiring a driver. The final rule removes the requirement for a carrier to certify that no record exists when no MVR is received from licensing authority.
Carriers will be required to run MVRs for drivers licensed in Canada and Mexico and review those MVRs. Canadian and Mexican motor carriers are already required by their applicable safety codes to request MVRs for their drivers from their country's licensing authorities.
The DOT application for employment as required by 391.21 will be changed to require the driver to list each driver's licensing authority of unexpired CMV operator's license or permit.
Carriers that do not currently require non-CDL (commercial driver's license) drivers to report traffic convictions, as CDL drivers are required to do within 30 days in 383.31, should consider a company policy requiring such reporting by non-CDL drivers.
Continuous MVR monitoring will be an even more critical tool in the future for carriers.
This article was written by Mark Schedler of J. J. Keller & Associates, Inc.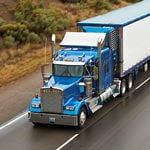 Looking for more on transportation safety?
Get the information and products you need to stay on top of industry changes and comply with regs.