Employers can no longer mandate arbitration for workplace sexual harassment, assault claims
Posted March 4, 2022
On March 3, President Joe Biden signed a new harassment bill into law. The bill, H.R.4445 Ending Forced Arbitration of Sexual Assault and Sexual Harassment Act of 2021, goes into effect immediately. However, claims that were pending when this bill went into law aren't impacted.
What does this mean for employers?
This new law, which amends the Federal Arbitration Act, limits every employer's ability to mandate pre-dispute employment arbitration agreements for sexual harassment and sexual assault claims. Employees can opt for arbitration after a claim arises, however. It's up to the individual employee with the claim.
The law applies to any new claims, regardless of when the behavior in question occurred. It says that any arbitration agreement signed before a claim or dispute involving sexual assault or sexual harassment arises is voidable if the individual with the claim wants to make it void.
In other words, if an employer requires an employee to sign an arbitration agreement and someone later sexually assaults/harasses that employee, that employee can arbitrate their claims if they want. Or they can sue in court under state or federal law. It's entirely up to the employee.
The law also applies to sexual harassment and sexual assault claims brought in a joint, class, or collective action.
What is arbitration?
Arbitration is a form of Alternative Dispute Resolution (ADR). This means it is a method of resolving disagreements without litigation. During arbitration, evidence is presented and witnesses give their accounts of what happened, just like lawsuits heard before a court. But cases are decided by privately appointed arbitrators.
These arbitrators act as both judge and jury. Proceedings are conducted out of the public eye, parties generally are required to keep the outcome secret, and the decision is binding.
Key takeaways for employers
Employers should note that some states, including California and New York, already ban mandatory arbitration of sexual harassment claims, and some large companies have stopped enforcing such arbitration agreements.
Also, arbitration agreements are still effective for other types of claims, such as sex discrimination, provided that the claims don't involve any unwanted sexual advances, contact, comments, etc.
Employers should promptly review and update any employment policies that refer to sexual harassment and claims of assault – particularly if it mentions an arbitration process.
This article was written by Judy Kneiszel of J. J. Keller & Associates, Inc.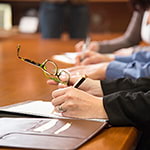 Looking for more on HR compliance?
Get the information and products you need to stay on top of industry changes and comply with regs.