DOL cracking down on FMLA retaliation
Posted March 18, 2022
In the world of FMLA, employees may file interference claims or retaliation claims. The DOL has now taken an enhanced focus on retaliation, indicating that it will use every tool available to safeguard worker protections.
The FMLA prohibits interfering with, restraining, or denying an employee's exercise of or attempt to exercise any FMLA right. It also prohibits employers from discharging or in any other way discriminating against any person, whether or not an employee, for opposing or complaining about any unlawful practice under the FMLA.
Interfering with the exercise of an employee's rights includes the following:
Refusing to grant FMLA leave,
Discouraging an employee from taking FMLA leave, or
Manipulating the situation to avoid FMLA responsibilities (e.g., changing essential functions of the job in order to preclude the taking of leave).
Retaliation — or the fear of it — often prevents employees from exercising their FMLA rights.
In court, for example, employees can demonstrate that they would have taken more available FMLA leave had their employer not discouraged an employee's willingness to take additional leave because of certain comments.
Retaliation can take many other forms including:
Reduction of work hours or pay,
Denial of leave,
Bullying,
Constructive discharge,
Threat of job loss, or
Demotion,
Often, managers and supervisors who are not versed in the FMLA rights, take such action. Employers can, therefore, help prevent retaliation from occurring in the workplace by identifying and addressing behaviors that might result in retaliation against workers and by providing training and demonstrating a commitment not to retaliate against workers who exercise their rights.
Taking such steps could stop an employee from accessing the DOL's new retaliation site, which includes information on how to file a complaint. Employees who believe their FMLA rights have been violated may file a complaint with the Secretary of Labor or file a private lawsuit. Employees are not required to file a complaint with DOL prior to bringing an action in court.
Be careful out there!
This article was written by Darlene Clabault of J. J. Keller & Associates, Inc.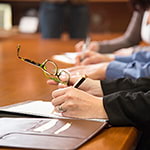 Looking for more on HR compliance?
Get the information and products you need to stay on top of industry changes and comply with regs.