USCIS temporarily relaxes Form I-9 in-person document review requirements
Posted March 23, 2020
In response to the COVID-19 pandemic, the Department of Homeland Security's Immigration and Customs Enforcement (ICE) will allow fully remote employers to defer the in-person review of acceptable work authorization and identity documents for Forms I-9. The reprieve ends May 19, or three days after the end of the national emergency, whichever comes first.
Employers with any onsite employees will still need to review the documents in person, and all employers must still review Section 2 documents with employees within three business days of the first day of work. Employers may review Section 2 documents from a distance, using video conference, email, or fax. If this approach is used, employers should enter "COVID-19" as the reason for delay.
When business returns to normal, employers will be required to conduct an in-person review per the normal standards, entering the date of that review with a note under additional information for Section 2.
If your workplace has both remote and onsite employees, you'll still need to conduct the documents in person. However, you now have more options for reviewing the forms without actually sharing a physical space. Previously, the guidelines required employers to lean on notaries, attorneys, or business associates to complete remote Forms I-9. For now, however, the U.S. Citizenship and Immigration Services (USCIS) has said that anyone, even an employee's family member, can review them and attest to their authenticity.
If newly hired employees or existing employees are subject to COVID-19 quarantine or lockdown protocols, ICE will evaluate this on a case-by-case basis. The key is for employers to remember that they are still responsible for the accuracy and truthfulness, so it's important to know the individual reviewing the documents understands the obligation.
This article was written by Darlene M. Clabault, SHRM-CP, PHR, CLMS, of J. J. Keller & Associates, Inc.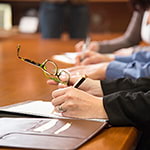 Looking for more on HR compliance?
Get the information and products you need to stay on top of industry changes and comply with regs.