OSHA guidance helps identify workplace risk levels for COVID-19
Posted March 16, 2020
To help employers plan for and respond to coronavirus in the workplace, OSHA has published "Guidance on Preparing Workplaces for COVID-19." It's intended to help employers identify risk levels in the workplace and to determine any appropriate control measures to implement.
OSHA says the document provides practical guidance for preventing the spread of novel coronavirus (COVID-19), and contains information on safe work practices and appropriate personal protective equipment (PPE) based on the risk level of exposure.
According to OSHA, additional guidance may be needed as COVID-19 outbreak conditions change, including as new information about the virus, its transmission, and impacts, becomes available.
The guidance was developed in collaboration with the Department of Health & Human Services (HHS).
This article was written by Rachel Krubsack of J. J. Keller & Associates, Inc.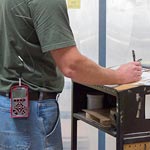 Looking for more on workplace safety?
Get the information and products you need to stay on top of industry changes and comply with regs.