OSHA develops interim guidance on preventing worker exposure to coronavirus
Posted March 2, 2020
While the novel coronavirus exposure risk to most workers is currently low, OSHA recommends employers remain aware of the evolving outbreak situation and adapt infection control measures as needed. The highest risk for worker exposure is in the following industries:
healthcare,
deathcare,
laboratory,
airline,
border protection,
solid waste and wastewater management operations, and
international travel to areas with ongoing, person-to-person transmission of the novel coronavirus, or COVID-19.
OSHA notes that measures for protecting workers from exposure to, and infection with, the novel coronavirus, depend on the type of work being performed and exposure risk, including the potential for interaction with infectious people and contamination of the work environment.
The Agency says employers should adapt infection control strategies based on a thorough hazard assessment, using appropriate combinations of engineering and administrative controls, safe work practices, and personal protective equipment (PPE) to prevent worker exposures.
Some OSHA standards that apply to preventing occupational exposure to COVID-19 also require employers to train workers on elements of infection prevention, including PPE.
This article was written by Rachel Krubsack of J. J. Keller & Associates, Inc.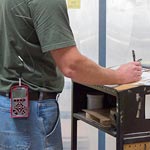 Looking for more on workplace safety?
Get the information and products you need to stay on top of industry changes and comply with regs.