International Roadcheck postponed due to coronavirus
Posted March 26, 2020
International Roadcheck, an annual inspection event hosted by the Commercial Vehicle Safety Alliance (CVSA), has been postponed due to the coronavirus (COVID-19) outbreak.
Roadcheck was scheduled for May 5-7 throughout the United States, Canada, and Mexico. By postponing for 2020 and not canceling, CVSA is leaving open the opportunity to reschedule the event later this year.
Inspections still taking place
COVID-19 has forced the Federal Motor Carrier Safety Administration (FMCSA) to temporarily waive federal rules related to everything from drug and alcohol testing to hours of service. But CVSA is reminding motor carriers that roadside safety inspections and traffic enforcement will continue daily as departmental health and safety policies and procedures allow.
Other events remain scheduled
Roadcheck is CVSA's only public enforcement initiative scheduled for 2020 that has been postponed.
Still on the calendar is the Operation Safe Driver Week, scheduled for July 12-18, and Brake Safety Week, set for August 23-29.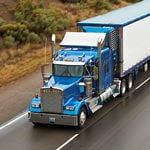 Looking for more on transportation safety?
Get the information and products you need to stay on top of industry changes and comply with regs.