Carriers supporting coronavirus relief get temporary reprieve from significant FMCSRs
Posted March 17, 2020
Motor carriers and drivers providing "direct assistance" in relief efforts related to coronavirus (COVID-19) are not required to comply with Parts 390 through 399 of the Federal Motor Carrier Safety Regulations (FMCSRs). This includes rules for hours of service and driver qualification, among other requirements.
The Federal Motor Carrier Safety Administration's (FMCSA's) emergency exemption is a response to the Trump Administration's recent declaration of a national emergency due to COVID-19. This suspension of regulations for certain motor carriers is projected to last through April 12, 2020.
While states and localities have lifted certain safety requirements during natural disasters, this is the first time hours-of-service rules have been suspended at the federal level since the rules were put in place in 1938.
Naturally, carriers have questions about the particulars, including who can use the exemption and exactly what they are and are not responsible for. Find the answers those questions and others below.
Who can use the exemption?
The exemption applies only to carriers and drivers who are performing transportation or other relief services related to the immediate restoration of essential services or supplies disrupted by the virus. This includes transportation to meet immediate needs for:
Medical supplies and equipment related to the testing, diagnosis, and treatment of COVID-19;
Supplies and equipment necessary for community safety, sanitation, and prevention of community transmission of COVID-19 such as masks, gloves, hand sanitizer, soap, and disinfectants;
Food for emergency restocking of stores;
Equipment, supplies, and people necessary to establish and manage temporary housing, quarantine, and isolation facilities related to COVID- 19;
People designated by federal, state, or local authorities for medical, isolation, or quarantine purposes; and
People necessary to provide other medical or emergency services, the supply of which may be affected by the COVID-19 response.
In what situations are drivers NOT considered to be providing direct assistance?
Drivers are NOT considered to be providing direct assistance if they:
Engage in routine commercial deliveries; or
Transport mixed loads that include both essential and non-essential supplies, equipment, and/or people.
Also, motor carriers and drivers currently under an out-of-service order are not eligible to use the exemption.
When does the exemption STOP applying?
Once a driver or vehicle is used to transport cargo or provide services that are not in support of emergency relief efforts or is dispatched to another location to begin operations in commerce, the exemption no longer applies. However, a driver who provides direct assistance may travel back to his or her terminal with an empty vehicle and still claim the exemption for that return trip.
What about drivers who cross state lines?
Because the emergency is nationwide, drivers may cross state lines and still claim the exemption.
Where the exemption applies, what additional considerations are there with regard to hours of service?
Eligible drivers are exempt from the hours-of-service rules while providing direct assistance, including the need to comply with any driving limits, rest requirements, or logging rules. Driving while ill or fatigued is never advised, however, and getting into compliance after the emergency-relief work is done could be a little tricky to manage.
First, immediate needs must be met. When direct assistance ends, if a driver says he or she is fatigued and needs rest before returning to the normal work-reporting location, the driver must be given at least 10 consecutive hours off duty.
After a driver has returned to his or her normal work-reporting location and is no longer providing direct assistance, the driver must have at least 10 hours off duty if operating a property-carrying vehicle or 8 hours off duty if operating a passenger-carrying vehicle.
After that, you'll need to determine where drivers stand on compliance with the 60- or 70-hour rule. For a truck driver, getting 34 hours off if the easiest solution. However, if that's not an option, you'll need to add up the hours worked in the past seven or eight days to see where each driver stands.
Notably, this includes all hours spent on emergency relief efforts. That's why tracking that time is still a necessity.
How should drivers track their emergency-relief work on an ELD?
Drivers using electronic logging devices (ELDs) have three options to consider when operating under the emergency exemption:
Log in to the ELD and use it as normal, but annotate the time as exempt so enforcement knows not to include the time in any hours-of-service calculations. Your ELD will show you in violation if you've exceeded a normal limit but you will not be written for a violation if you are compliant with the exemption. An example annotation could be: "Direct assistance in COVID-19 efforts."
Log in, use the "personal use" setting, and annotate the reason (e.g., "Direct assistance in COVID-19 efforts"). Driving time will be recorded as off-duty driving and will not affect hours-of-service calculations. This option avoids the creation of unassigned events caused when a driver fails to log in.
Refrain from logging in to the ELD. This is the least preferred option. This will generate unassigned driving events, and each such event will need to be assigned or annotated in the back-office system.
What regulations are drivers not exempt from?
Drivers and motor carriers operating under the exemption must continue to comply with certain safety rules, including those for:
Commercial drivers' licenses,
Drug and alcohol testing,
Financial responsibility (insurance),
Hazardous materials, and
Size and weight requirements.
How long will the exemption be available to qualifying carriers/drivers?
The exemption will be in place until 11:59 p.m. Eastern Time on April 12, 2020, or until the Trump Administration announces an end to the emergency, whichever happens first.
Do drivers have to carry a copy of the federal exemption notice in the vehicle?
No, drivers are not required to carry a copy of the notice. Carrying a copy is a recommended practice, however, along with any other documentation that can help show that the driver is eligible to operate under the exemption. Such documentation should help the driver explain the situation to roadside enforcement personnel, if necessary.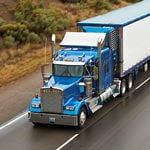 Looking for more on transportation safety?
Get the information and products you need to stay on top of industry changes and comply with regs.