Another joint employer final rule is released
Posted March 2, 2020
Just when you thought the dust was settling on the concept of joint employers after the U.S. Department of Labor issued its final rules for the Fair Labor Standards Act (FLSA), on February 26, the National Labor Relations Board (NLRB) issued its final rule governing joint-employer status under the National Labor Relations Act (NLRA). The final rule, which is effective April 27, 2020, restores the joint-employer standard that the NLRB applied for several decades prior to the 2015 decision in Browning-Ferris. The Browning-Ferris decision allowed for a joint employer finding based on only indirect, and even unexercised control, by one employer.
Under the final rule, to be a joint employer, a business must possess and exercise substantial direct and immediate control over one or more essential terms and conditions of employment of another employer's employees. The final rule defines key terms, including what are considered "essential terms and conditions of employment," and what does, and what does not, constitute "direct and immediate control" as to each of these essential employment terms. The final rule also defines what constitutes "substantial" direct and immediate control and makes clear that control exercised on a sporadic, isolated, or de minimis basis is not "substantial."
A joint employer finding has significant implications for rights and obligations under the NLRA relative to collective bargaining, strike activity, and unfair labor practice liability:
If the employees are represented by a union, the joint employer must participate in collective bargaining over their terms and conditions of employment.
Picketing directed at a joint employer that would otherwise be secondary and unlawful is primary and lawful.
Each business comprising the joint employer may be found jointly and severally liable for the other's unfair labor practices.
Evidence of indirect and/or contractually reserved control over essential employment terms may be a consideration for finding joint-employer status under the final rule, but it cannot give rise to such status without substantial direct and immediate control. Importantly, the final rule also makes clear that the routine elements of an arm's-length contract cannot turn a contractor into a joint employer.
The joint-employer standard under the NLRA matters because it determines whether a business is an employer of employees directly employed by another employer altogether. If two entities are joint employers, both must bargain with the union that represents the jointly employed employees, both are potentially liable for unfair labor practices committed by the other, and both are subject to union picketing or other economic pressure if there is a labor dispute.
Don't confuse the NLRB's joint employer final rule with the DOL's joint employer final rule. They are different and need to be addressed based on their individual provisions.
This article was written by Darlene M. Clabault, SHRM-CP, PHR, CLMS, of J. J. Keller & Associates, Inc.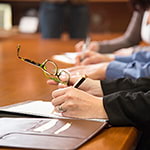 Looking for more on HR compliance?
Get the information and products you need to stay on top of industry changes and comply with regs.