FMCSA cleans up regulatory guidance for CDL regulations
Posted March 8, 2019
The Federal Motor Carrier Safety Administration (FMCSA) is cleaning up its regulatory guidance for commercial driver's license (CDL) standards, requirements, penalties, and state compliance with CDL rules.
In total, the agency is deleting 47 guidance statements (also known as interpretations), revising 55 others, and adding two new statements that interpret various requirements found in the CDL licensing standards in 49 CFR Parts 383 and 384.
FMCSA said interpretations are being deleted because:
The rule is clear and further guidance is not needed;
The deleted guidance was unclear;
The deleted guidance is duplicative of other guidance statements; or
The guidance is obsolete due to rulemakings completed since the guidance was issued.
Other guidance statements have also been revised for clarity and reorganized so that similar content is grouped together.
The FMCSA revisions are part of a larger and similar review under way at the DOT, which is accepting public comments until May 8, 2019. The DOT review, as mandated by Congress, covers all other parts of the Federal Motor Carrier Safety Regulations, as well as guidance from other DOT agencies.
FMCSA said the revised guidance is effective immediately, but it is seeking comments on the revisions for CDL standards, requirements, and penalties. FMCSA also said it may issue additional changes if comments demonstrate a need.
Comments must be submitted within 60 days of the Friday, March 8, 2019, notification in the Federal Register. To submit comments, visit the Federal eRulemaking Portal and follow the online instructions for submitting comments to docket number FMCSA-2016-0429.
---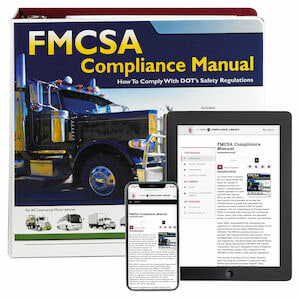 J. J. Keller's FMCSA Compliance Manual helps companies operating commercial motor vehicles (CMVs) comply with DOT regulations.
---
J. J. Keller's FREE Transportation SafetyClicks™ email newsletter brings quick-read safety and compliance news right to your email box.
Sign up to receive Transport SafetyClicks™.