Court: Employer wins argument regarding checking employees' social media
Posted March 27, 2019
What would you do if a bunch of employees got together, created a competing business, left the company, and took a valuable client and company information with them? Would you look high and low for evidence of their actions to stop them from going further? Would you go so far as to monitor their social media accounts? Should you? In an analogous court case, an employer did just that and won its day in court.
Case in point
An employee of an engineering firm was promised a partnership. Without the partnership, the employee threatened that he would start a competing firm. He was asked to sign a noncompete agreement, but he declined. Instead, he resigned and started two competing firms. He recruited three other company engineers to join him. While still working for the original firm, these employees discussed their new venture over social media and transmitted documents and information to the competing firms.
While one of the employees still worked for the original firm, he accessed social media accounts, but before he left, he cleared the history on his laptop. After he left, the firm's network administrator reviewed his browser history and accessed deleted activity, including social media accounts. Through this, the administrator could continue to monitor the former employee's activity without detection and saw messages that revealed the former employees' plans and actions they took to secure client information and intellectual property.
With this information, the original firm filed a claim alleging, among other things, breach of the duty of loyalty and misappropriation of trade secrets, asking for an injunction against the competing firms. In court, the fact that the original firm accessed the accusatory information from a former employee's social media came out, causing a dispute over whether the employee actually logged out of the account, or the firm hacked it.
The Third Circuit Court of Appeals ruled that it "may be reasonable" for an employer to access password-protected content on a company laptop; that the former employees' alleged breaches of loyalty, tortious interference, and/or trade secret violations predated the firm's alleged hacking of the former employee's social media account and these actions did not affect the former employees' alleged violations; and ultimately, that the original firm's actions should not bar its right to pursue injunctive relief. The court also found that the original firm would be irreparably harmed without an injunction barring the former employees from soliciting its clients and from destroying company information.
Tread carefully
While this employer won this round, employers should be aware of the federal Stored Communications Act, under which courts have ruled that accessing former employees' accounts were violations. State laws can also apply. Therefore, accessing and monitoring employee or former employee social media accounts should not be taken lightly, but should be discussed with knowledgeable counsel.
Sherer Design Group, LLC v. Ahead Engineering LLC, et al., Third Circuit Court of Appeals, No. 18-2835, February 25, 2019
This article was written by Darlene M. Clabault, SHRM-CP, PHR, CLMS, of J. J. Keller & Associates, Inc.
---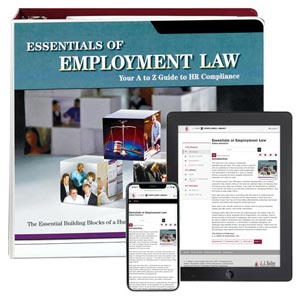 J. J. Keller's Essentials of Employment Law Manual covers more than 100 vital HR topics, including FMLA, ADA, HIPAA, FLSA, COBRA and more.
---
J. J. Keller's FREE HR SafetyClicks™ email newsletter brings quick-read safety and compliance news right to your email box.
Sign up to receive HR SafetyClicks™.