Cal/OSHA cites company $250,000 for willful failure to guard machinery
Posted March 29, 2019
Cal/OSHA has issued more than $250,000 in citations to a ceramic material and supply company for its willful failure to properly guard equipment after an employee was fatally entangled in a clay manufacturing machine called a pug mill. Safety guards had been removed from the industrial mixer and the worker had not received training on the machine before the accident.
In September 2018, an employee became caught in the unguarded mixing blades of the machine when he tried to identify why the clay stopped traveling through the extruder.
Cal/OSHA's investigation found that all four of the shop's pug mills had unguarded openings exposing employees to the moving parts. Safety regulations require mixers to have a cover to prevent employees' hands from entering the machine during operation.
The investigation also found that the company failed to effectively train workers on the hazards involved with operating the machinery and did not identify or correct the hazards. Although the manufacturer had provided safety guards for the machinery, the employer removed the guards. At one point, fabricated guards were added to the machines but were later removed when the employer believed they interfered with the rate of production.
Cal/OSHA cited the company $250,160 in proposed penalties for five violations, classifying one as willful-serious accident-related, one willful-serious, two serious, and one general. The willful-serious violations were cited for the employer's failure to guard machine openings and points of operation. The serious violations identify hazards from the unguarded cutting portion of the clay machine and failure of the employer's safety program to identify unsafe conditions, implement corrective procedures, and effectively train employees on work-related hazards.
---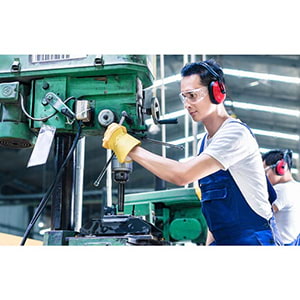 J. J. Keller's Machine Guarding – Online Course helps learners understand the hazards and potential injuries associated with operating machinery.
---
J. J. Keller's FREE Workplace SafetyClicks™ email newsletter brings quick-read safety and compliance news right to your email box.
Sign up to receive Workplace SafetyClicks™.