Wearable exoskeletons may reduce physical load at work, according to NIOSH
Posted March 8, 2016
Robotic-like suits which provide powered assist and increase human strength may conjure thoughts of sci-fi and superhero film genres. But these wearable exoskeleton devices are now a reality and the market for their applications in the workplace is projected to increase significantly in the next five years, according to the National Institute for Occupational Safety and Health (NIOSH). As with any technologic innovation some of the pros and cons and barriers to adoption are not completely understood.
The wearable exoskeleton was defined by de Looze et al. (2015) as "…a wearable, external mechanical structure that enhances the power of a person…"
From the standpoint of workplace health and safety, wearable exoskeleton devices may be beneficial in reducing musculoskeletal loads that are not otherwise abated by engineering process change. Lifting and handling of heavy materials and supporting heavy tools are contributors to fatigue and musculoskeletal disorders (MSDs).
NIOSH says the market for industrial use of wearable exoskeletons is projected to increase. According to a recent market research report (WinterGreen, Research Inc., 2015) in 2016 the medical/rehabilitation applications will likely comprise 97 percent of the total market for wearable exoskeletons compared with only 3 percent for work-related/industrial applications.
The report projects that within five years the industrial market share will equal that of the medical/rehabilitation. Market forecasts from this report suggest growth in the industrial market from $2.9 million in 2016 to $1.12 billion in 2021 — an average growth of 229 percent per year. Use in the shipbuilding industry, now underway, represents a high market percentage initially, but greater increases in market share are projected in the construction, warehousing, and manufacturing industries.
NIOSH has not reviewed evidence related to wearable exoskeletons in the prevention of workplace musculoskeletal injuries and illnesses. However, a recent literature review by de Looze et al. (2015) identified 40 scientific studies conducted in 1995-2014 that examined the effect of exoskeletons on reducing musculoskeletal loading. The majority of these studies evaluated these effects in a laboratory setting and several studies did report decreased back muscle activity and compressive forces in the lower spine. Because most of the studies have been in laboratory environments, more information on worker acceptance and adoption of the devices and long-term use in real work environments is needed.
NIOSH says occupational use of wearable exoskeletons should be evaluated for potential benefits and potential competing risks before widespread workplace adoption.
If you are using exoskeletons in your workplace and would be interested in collaborating with NIOSH on evaluation, email nioshmsdprogram@cdc.gov.
---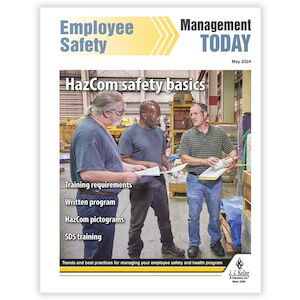 J. J. Keller's Safety Management Today Newsletter is packed with money-saving tips and practical advice that can result in improved on-the-job performance.
---
J. J. Keller's FREE Workplace SafetyClicks™ email newsletter brings quick-read workplace safety and compliance news right to your email box.