FMLA and the 12-week factor
Posted March 4, 2016
Molly worked in human resources for a small company, so she didn't get many requests for time off under the Family and Medical Leave Act (FMLA). Lorne, an employee, however, was giving her opportunities to learn about the law. Months ago, Lorne had been in a car accident and was hospitalized, but returned to work only four weeks after the accident. Now Lorne was asking for time off to care for his wife, as she needed surgery for an old sports injury that was acting up.
Molly now wondered whether Lorne was entitled to 12 weeks of leave for each different situation, or 12 weeks total for all situations combined. If he was entitled to 12 weeks for each incident, Lorne could take 12 weeks just to care for his wife.
The answer to Molly's question is that eligible employees are entitled to a total of up to 12 weeks of FMLA leave in a 12-month period. They are not entitled to 12 weeks of leave for each qualifying reason.
Therefore, an eligible employee could take 12 weeks of leave each 12-month leave year period. The employer generally gets to choose among four methods* on how to calculate the 12-month leave year period.
The 12 weeks may be taken for the following qualifying reasons:
For the birth and care of the newborn child of an employee;
For placement with the employee of a child for adoption or foster care;
To care for an immediate family member (spouse, child, or parent) with a serious health condition;
To take medical leave when the employee is unable to work because of a serious health condition; or
For any qualifying exigency arising out of the fact that a spouse, son, daughter, or parent is a military member on covered active duty or call to covered active duty status.
An eligible employee is also entitled to take up to 26 workweeks of leave during a "single 12-month period" to care for a covered military servicemember with a serious injury or illness when the employee is the spouse, son, daughter, parent, or next of kin of the servicemember. The "single 12-month period" for military caregiver leave is different from the 12-month period used for other FMLA leave reasons. This one must be calculated on a measured-forward basis.
Therefore, Lorne, in our story, would be entitled to only eight more weeks of FMLA leave in the current 12-month leave year period to care for his wife.
*The calendar year, from January 1 through December 31; Any fixed 12-month period, such as a fiscal year, a year starting on an employee's anniversary date, or a 12-month period required by state law; The 12-month period measured forward from when an employee first takes FMLA leave in the 12-month period measured; or A "rolling" 12-month period measured backward, where, each time an employee takes FMLA leave, you look back 12 months and determine if any leave was taken during that time; the remaining balance of the 12 weeks would be available to the employee for that day.
This article was written by Darlene Clabault of J. J. Keller & Associates, Inc.
---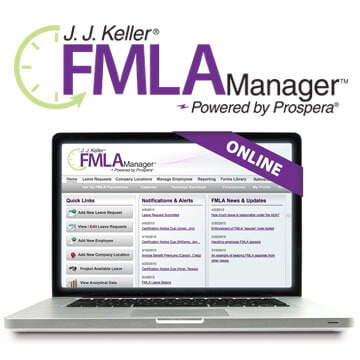 J. J. Keller® FMLA Manager™ Service makes leave tracking easier while complying with the latest federal & state regulations.
---
J. J. Keller's FREE HRClicks™ email newsletter brings quick-read human resources-related news right to your email inbox.