Educational requirements for employment are growing, according to survey
Posted March 24, 2016
Thirty-two percent of employers have increased their educational requirements over the past five years, according to a new CareerBuilder survey. For instance, the survey showed that 27 percent are hiring employees with master's degrees for positions primarily held by those with four-year degrees in the past, and 37 percent are hiring employees with college degrees for positions that had been primarily held by those with high school degrees.
What employers are looking for
According to the survey, of the employers who have increased their education requirements in the past five years, most have done so for middle-skill jobs:
Entry-level or low-skill: 46 percent
Middle-skill: 61 percent
High-skill: 43 percent
When asked why they are hiring more employees with college degrees for positions that had been primarily for those with high school diplomas in the past, 60 percent of these employers said skills for those positions have evolved, requiring higher educated labor, and 56 percent said they're able to get college-educated labor for those positions because of the tight job market.
As a result of increasing their educational requirements, employers have witnessed a positive impact on:
Higher quality work: 57 percent
Productivity: 43 percent
Communication: 38 percent
Innovation/idea generation: 37 percent
Employee retention: 32 percent
Customer loyalty: 25 percent
Revenue: 21 percent
The survey indicates that higher degrees not only boost candidates' chances of getting hired, but they can help their chances of getting promoted as well — 36 percent say they are unlikely to promote someone who doesn't have a college degree.
Companies take responsibility for training
Not all of the pressure to increase their education is on employees, however. Some companies are taking a proactive approach to bridging the skills gap and overcoming the talent shortage by reskilling employees themselves. Thirty-five percent of employers trained low-skill workers and hired them for high-skill jobs in 2015, and a similar proportion (33 percent) plan to do the same this year. Similarly, 64 percent of employers said they plan to hire people who have the majority of skills they require and provide training to them for the rest.
To help employees gain the skills they need, 50 percent of employers pay for training and certifications that employees earn outside the company, and 2 in 5 employers (40 percent) are sending current employees back to school to get an advanced degree — with 23 percent funding it partially and 12 percent providing full funding.
Others are taking training in-house. Sixty-eight percent of employers said their company offers training programs to employees, and the majority of these employers say these training programs offer soft skills (71 percent) or hard skills (72 percent).
Survey methodology
This survey was conducted online within the U.S. by Harris Poll on behalf of CareerBuilder among 2,338 hiring and human resource managers ages 18 and over (employed full-time, not self-employed, non-government) between November 4 and December 1, 2015. With a pure probability sample of 2,338, one could say with a 95 percent probability that the overall results have a sampling error of +/- 2.03 percentage points. Sampling error for data from sub-samples is higher and varies.
---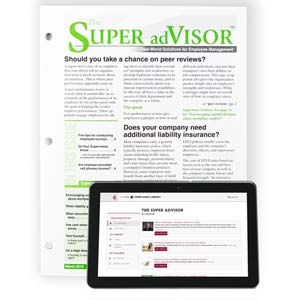 The SUPER adVISOR™ newsletter contains four pages dedicated to the HR manager and a corresponding four-page pullout dedicated to the needs of supervisors.
---
J. J. Keller's FREE HRClicks™ email newsletter brings quick-read human resources-related news right to your email inbox.