Physical hazards in confined spaces focus of new OSHA fact sheet
Posted February 16, 2023
A new OSHA fact sheet (OSHA-4198) outlines measures to protect shipyard employees from the physical hazards of confined spaces. In the maritime sector, physical hazards in confined spaces can increase a worker's risk of injury. Examples include:
Slippery and sloping surfaces,
Obstructions,
Moving or rotating equipment,
Corroded ladder rungs, and
Elevated walking-working surfaces.
The fact sheet provides recommendations for conducting hazard assessments, such as using operating manuals and safety data sheets to collect, organize, and analyze information on confined space hazards.
It also outlines safety measures to protect workers from the physical hazards in confined spaces, with an emphasis on employee training. These include:
Protecting workers from falls by ensuring adequate fall protection systems are in place,
Providing safe access by ensuring ladders are inspected for defects and workers follow proper protocol for ladder use,
Maintaining and using adequate lighting in confined spaces,
Verifying safe working conditions by inspecting confined spaces for hazards and restricting employee access to any areas deemed hazardous, and
Checking on employees regularly who work alone.
Both employers and workers should take steps to recognize, assess, and control hazards in confined spaces. A shipyard competent person can evaluate worker exposure to unsafe conditions and determine what actions are necessary to ensure worker safety.
This article was written by Carmen King of J. J. Keller & Associates, Inc.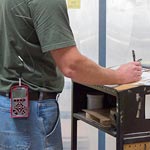 Looking for more on workplace safety?
Get the information and products you need to stay on top of industry changes and comply with regs.