Final rule on NESHAP Miscellaneous Coating Manufacturing
Posted February 23, 2023
This action finalizes first-time standards for inorganic hazardous air pollutant (HAP) that will limit emissions and require that controls are effective. Final amendments include provisions for inorganic HAP standards for process vessels. Only 12 facilities with add-on controls are expected to incur further costs.
Under this final rule, a source owner must submit semi-annual compliance summary reports which document compliance with the requirements of this rule and any deviations from compliance with any of those requirements. This rule also finalizes the definitions in 40 CFR 63.8105 for Bag Leak Detection System (BLDS), fabric filter, and material containing metal HAP.
There will be no emissions reductions of particulate matter (PM) from the MCM source category because all facilities reporting PM emissions are already equipped with particulate controls. This rule went into effect on February 22, 2023.
This article was written by Jessica Stengel of J. J. Keller & Associates, Inc.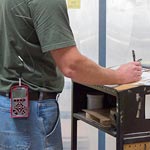 Looking for more on workplace safety?
Get the information and products you need to stay on top of industry changes and comply with regs.