Superbowl Sunday means time to watch for FMLA leave requests
Posted February 3, 2022
The Los Angeles Rams will take on the Cincinnati Bengals in Superbowl LVI scheduled for Sunday February 13, 2022. Since this is a major sporting event and many people will be partaking in some form of spectating, party, or gathering; Monday could bring about many requests for time off, maybe even requests for FMLA leave.
If, for example, Joe Employee is a Bengals fan and is joining a dozen or so of his friends to watch the game, he might enjoy camaraderie and a few (or more) adult beverages well into the night. Let's say that Joe also suffers from migraines, for which he is approved to take unforeseeable intermittent FMLA leave.
Come Monday morning, Joe might not spring into action at 5:00 a.m. as usual, and he might consider calling into work claiming that he has one of his migraines. This could be the case if Joe really has a migraine. It could also be the case that his migraines provide a nice excuse to sleep late due to an overindulgence in celebration activities, even if he does not have a migraine.
Such is the possibility across many parts of America come Monday, February 14. Employers who believe this could be an issue at their workplaces might remind employees that taking FMLA leave fraudulently, such as for a reason that does not qualify for FMLA protections (think hangover), can result in discipline up to and including termination (based on your company policy).
Unforeseeable, intermittent FMLA leave is the leading challenge in administering the law. When major events occur, whether they are related to sports, holidays, politics, or any other context, be on the lookout for employees who might want to take advantage of the situation. Letting your employees know that you take FMLA leave seriously and reminding them of the risks of abusing the leave can help avoid some leave administration headaches.
For a handful of workplaces, however, an increase of absences on the Monday after the Superbowl is expected and is part of the status quo, particularly if one of the NFL teams in play is a local favorite.
This article was written by Darlene Clabault of J. J. Keller & Associates, Inc.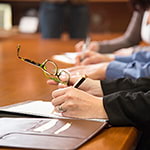 Looking for more on HR compliance?
Get the information and products you need to stay on top of industry changes and comply with regs.