Don't let Medical Examination Reports (MERs) land you in hot water
Posted February 11, 2022
If you obtain copies of your drivers' Medical Examination Report (MER) forms, treat them carefully or you could face a discrimination lawsuit.
Contrary to popular belief, motor carriers are not required to obtain their drivers' MERs. The FMCSA has no rules requiring it, but they also don't prohibit it, which leaves many motor carriers thinking it's okay.
If you do receive a driver's exam form (also known as the "long form"), you must take steps to avoid discrimination based on the driver's medical condition, according to the Equal Employment Opportunity Commission (EEOC). In part, this means complying with:
The Americans with Disabilities Act of 1990 (ADA),
The Rehabilitation Act of 1973, and
The Genetic Information Nondiscrimination Act of 2008 (GINA).
The ADA and the Rehabilitation Act require that employers treat applicants' and employees' medical information as a "confidential medical record." Such records must be maintained in separate medical files, NOT in a driver's personnel or qualification file.
GINA prohibits employment discrimination based on genetic information. This includes information about a driver's or family member's genetic tests as well as genetic-based diseases in the driver's family members.
Who can see it?
Disclosure of medical information governed by the ADA and the Rehabilitation Act's confidentiality provisions is allowed only in limited circumstances, the EEOC says. This includes:
Sharing with supervisors and managers who need to know about an employee's work restrictions and necessary accommodations;
Sharing with first-aid and safety personnel if an employee's disability might require emergency treatment or assistance in the event of an emergency;
Sharing with government officials investigating ADA compliance; and
Disclosure for workers' compensation and insurance purposes.
With all the complications they can bring, tread carefully if you want to obtain your drivers' medical exam forms.
This article was written by Daren Hansen of J. J. Keller & Associates, Inc.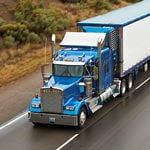 Looking for more on transportation safety?
Get the information and products you need to stay on top of industry changes and comply with regs.