EEOC withdraws wellness rules
Posted February 26, 2021
The wait continues for employers looking for clarity on wellness program incentives.
The Equal Employment Opportunity Commission (EEOC) has withdrawn proposed rules addressing the value of incentives employers can use to encourage employee participation in wellness programs.
The proposals were released by the EEOC in early January but were not published in the Federal Register. They were withdrawn from the Office of the Federal Register due to a regulatory freeze issued on January 20, 2021.
The regulatory freeze requires agencies to hold off on sending rules to the Office of the Federal Register until they can be reviewed and approved by a department or agency head appointed by President Biden.
The EEOC website indicates that the next steps for the rules are under consideration.
Defining 'voluntary'
The proposals had addressed limits on incentives that encourage workers to participate in a workplace wellness program.
A wellness program requiring employees to provide medical information must comply with the Americans with Disabilities Act (ADA) and Genetic Information Nondiscrimination Act (GINA). Under the ADA, participation must be "voluntary."
The ADA and GINA do not define "voluntary," so the EEOC has been working on two rules (one for the ADA and one for GINA) that look at the level of incentives that can be used to meet the voluntary standard.
Still waiting
The agency first issued rules clarifying wellness program incentive levels in 2016. However, they were vacated by a court decision in 2017 and employers have been waiting for further guidance from the EEOC.
It looked like that guidance was on the way in early January, when the new proposed rules were introduced. The regulatory freeze means that the wait continues while the EEOC decides on next steps for the proposals.
This article was written by Terri Dougherty of J. J. Keller & Associates, Inc.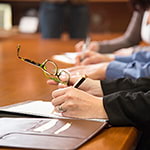 Looking for more on HR compliance?
Get the information and products you need to stay on top of industry changes and comply with regs.