The wait is over; a new Form I-9 is released
Posted February 3, 2020
For some, the Superbowl was the most exciting thing to happen in the last few days. For a very small minority (you know who you are), the release of the latest Form I-9 was the cat's pajamas. It's true; on January 31, 2020, the USCIS released a new Form I-9, Employment Eligibility Verification. The Office of Management and Budget approved this new version back on October 21, 2019, and it contains minor changes to the form and its instructions. Employers are expected to begin using this updated form as of January 31, 2020.
Employers do have some additional time to make necessary updates and adjust their business processes. They may continue using the prior version of the form (Rev. 07/17/2017 N) until April 30, 2020. After that date, they may use only the new form with the 10/21/2019 version date. The version date is found in the lower left corner of the form, while the expiration date of 10/31/2022 is found at the top right corner.
To the form itself, the USCIS revised the Country of Issuance field in Section 1 and the Issuing Authority field (when selecting a foreign passport) in Section 2 to add Eswatini and Macedonia, North per those countries' recent name changes (this change is only visible when completing the fillable Form I-9 on a computer).
Other changes include the following:
To the form's instructions, the USCIS made the following changes:
Clarified who can act as an authorized representative on behalf of an employer — you may designate anyone to be an authorized representative to act on your behalf to complete Section 2.
Updated USCIS website addresses.
Revised when not to enter N/A in Section 2.
Provided clarifications on acceptable documents for Form I-9.
Updated the process for requesting paper Forms I-9.
Updated the DHS Privacy Notice.
A revised Spanish version of Form I-9 with a version date of 10/21/2019 is available for use in Puerto Rico only. Employers in the U.S. and other U.S. territories may use the Spanish version as a translation guide for Spanish-speaking employees, but the English version must be completed and retained in the employer's records.
Employers do not need to complete the new Form I-9 (Rev. 10/21/2019) for current employees who already have a properly completed Form I-9 on file, unless reverification applies. Unnecessary verification may risk violating the anti-discrimination provision.
This article was written by Darlene M. Clabault, SHRM-CP, PHR, CLMS, of J. J. Keller & Associates, Inc.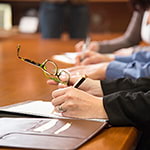 Looking for more on HR compliance?
Get the information and products you need to stay on top of industry changes and comply with regs.