Employer's failure to consider bargaining agreements cost $76 million
Posted February 21, 2020
As part of a settlement with the largest monetary remedy in the history of the National Labor Relations Board (NLRB), a large national news company has agreed to pay $76 million in backpay. The backpay amount, larger than what the NLRB collects on average in a typical year, is expected to cover over 300 individuals.
The dispute began way back in 2003 when the employer terminated a contract with a company that had been providing the employer video services. The employer terminated the contract, then laid off more than 100 technicians and replaced with in-house workers. It did not negotiate with the union that represented the service company employees. The employer told the workers that their prior employment with the service company and union affiliation disqualified them from employment.
After a lengthy hearing in 2008, an administrative law judge found that the employer's actions violated the National Labor Relations Act and that it was a successor to, and joint employer with, the service company. In 2014, the NLRB agreed and ordered the employer to bargain with the unions and provide backpay. Later, in 2017, a panel of the D.C. Circuit Court of Appeals adopted the majority of the NLRB's findings, and enforced the NLRB's order that the employer cease and desist from refusing to recognize and bargain with the unions. The court, however, remanded the NLRB's joint employer finding for further clarification, along with the issue of backpay for further consideration by the NLRB.
After the case was remanded, the parties agreed to resolve their dispute through the NLRB's Alternative Dispute Resolution program.
The definition of joint employers is still hotly debated, particularly in the gig economy. The employer in this case argued that it wasn't required to collectively bargain with the employees of the service provider, because it wasn't their employer under federal labor law. The NLRB, however, indicated otherwise.
The parties are the National Labor Relations Board, CNN America, Inc., and Local 11 and Local 31 of the National Association of Broadcast Employees and Technicians (NABET), Communications Workers of America (CWA), AFL-CIO.
This article was written by Darlene M. Clabault, SHRM-CP, PHR, CLMS, of J. J. Keller & Associates, Inc.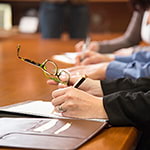 Looking for more on HR compliance?
Get the information and products you need to stay on top of industry changes and comply with regs.