Employer failed to recognize an employee's notice of the need for leave
Posted February 17, 2020
It's not uncommon for an employee with attendance issues to need FMLA leave. It's all too common, however, that employers fail to recognize an employee's "notice" of the need for leave – even employees with attendance issues. Notice can take many forms, including an employee indicating that she has a condition and needs time off because of the condition.
Case in point
A company had an absence policy where 10 or more "accountable" absences within a rolling 12-month period would result in termination. This did not, however, include FMLA leave. Veida, an employee, had attendance issues during her many years at the company.
At one point during her career, Veida found out she had diabetes. She told her boss, Manny, right away. She felt that everybody in the workplace knew about her condition.
She continued to have attendance issues, received corrective action requirements, and was suspended.
At one point, she called in sick and spoke to Manny, who told her "you need to go ahead and do the FMLA before you get fired." That same day, however, Manny faxed Veida's attendance history to HR to receive guidance on whether she should be terminated.
The next day, Veida went to work, but was still not feeling well, which she told Manny. Manny told her "he didn't want her to work like that."
The day after that, Veida received FMLA paperwork from the HR department to have completed by her doctor. She took the papers to her locker and then began working. About 15 minutes later, Veida was called into a meeting with Manny and his manager. She was given a listing of her absences, which indicated that she had exceeded the allowable amount of accountable absences, subjecting her to potential termination. Veida indicated that one of the absences was incorrect, that she had worked that day. Despite her entreaties, Veida was terminated.
Veida subsequently sued, arguing that her employer violated the FMLA by terminating her immediately after she received paperwork to request FMLA leave.
The employer, on the other hand, argued that Veida did not provide notice of her intent to take leave. Veida wanted this issue to be resolved by a jury.
The court agreed with Veida, indicating that direct notice of the need for leave to an employer is not always required; an employer's constructive notice of an employee's need for FMLA leave may be enough. It is enough that an employer knows of the employee's need for leave; the employee need not mention the statute or demand its benefits. Once an employee informs his employer of his probable need for medical leave, the FMLA imposes a duty on the employer to conduct further investigation and inquiry to determine whether the proposed leave in fact qualifies as FMLA leave.
The employer tried to argue that Veida did not turn in the FMLA paperwork after the meeting. The court, however, pointed out that the manager in the meeting told her it was "too late." The court allowed the case to proceed to trial, denying the employer's request for summary judgement.
Ballard v Jewel Food Stores, Inc., ND ILL, No. 18-cv-2944, February 10, 2020.
This article was written by Darlene M. Clabault, SHRM-CP, PHR, CLMS, of J. J. Keller & Associates, Inc.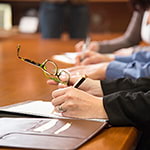 Looking for more on HR compliance?
Get the information and products you need to stay on top of industry changes and comply with regs.